An Exploratory Study: Assessment of Modeled Dioxin Exposure in Ceramic Art Studios (2008 Final)
Notice
[11/25/08] EPA is announcing the availability of this final report.
Abstract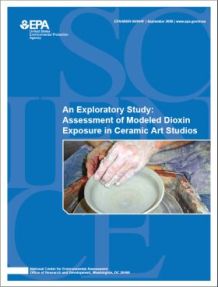 EPA has released the final report entitled,
An Exploratory Study: Assessment of Modeled Dioxin Exposure in Ceramic Art Studios
. The purpose of this report is to investigate the potential dioxin exposure to artists/hobbyists who use ball clay to make pottery and related products. Dermal, inhalation, and ingestion exposures to clay were measured at the ceramics art department of Ohio State University in Columbus, OH. The exposure estimates were based on measured levels of clay in the studio air, deposited on surrogate food samples and on the skin of the artists.
In 1996, dioxins were discovered in ball clay as a result of an investigation to determine the sources of elevated dioxin levels in two chicken samples from a national survey of poultry. The investigation indicated that the contamination source was ball clay added to chicken meal as an anti-caking agent. The purpose of this study was to evaluate another potential exposure scenario associated with ball clay, namely its use in ceramic art studios. This exploratory investigation makes preliminary exposure estimates that can be used to evaluate whether more detailed follow-up analyses will be needed.
Citation
U.S. EPA. An Exploratory Study: Assessment of Modeled Dioxin Exposure in Ceramic Art Studios (2008 Final). U.S. Environmental Protection Agency, Washington, DC, EPA/600/R-06/044F, 2008.
History/Chronology
| | |
| --- | --- |
| 2003 - 2004 | Field studies were conducted. |
| Oct 2007 | EPA releases the External Review Draft for public review and comment. |
| Jan 2008 | A peer review meeting was held by an independent contractor to review the draft document. |
This document has been reviewed in accordance with U.S. Environmental Protection Agency policy and approved for publication. Mention of trade names or commercial products does not constitute endorsement or recommendation for use.